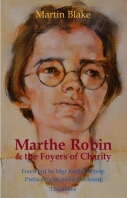 Marthe Robin and the Foyers of Charity, by Martin Blake (ISBN 9780955074622).

This book looks at the life of Marthe Robin, the French mystic, who, with Fr Georges Finet, co-founded the Foyer of Charity community at Châteauneuf-de-Galaure in southeastern France in 1936. There are now 75 Foyer communities throughout the world, and their work involves a priest, the Father of the Foyer, giving 5 day retreats in silence, during which the members of the community look after the needs of the retreatants and pray for them.
---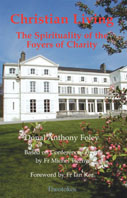 Christian Living: The Spirituality of the Foyers of Charity, by Donal Anthony Foley (ISBN 0955074614).

This book contains essential information about Marthe Robin and the Foyers of Charity, as well as chapters based on retreats given by Fr Michel Tierny, the Father of the Foyer of Charity at Courset, in France. These cover topics such as discipleship, prayer, silence, the sacraments, and more. With a foreword by the renowned Newman scholar, Fr Ian Ker, this is an excellent new guide to living a better Christian life.
For more information, including extracts, how to order etc., click here ...
---
Marthe Robin: A Prophetic vision of the Gospel Message by Fr Bernard Peyrous
This biography of Marthe Robin was written by Fr Bernard Peyrous, who is the postulator for the cause of Marthe Robin, and thus he has had access to all the relevant documents regarding her life, and the growth of the Foyers of Charity. This promises to become the standard work of reference on Marthe and the Foyers. It has now been translated into English by Kathryn Spink, and is published by Veritas. You can read the first chapter here.

Marthe Robin: A Prophetic vision of the Gospel Message by Bernard Peyrous. Published by Veritas, August 2010, 384 pages, ISBN : 1847302378

Available online at waterstones or amazon.
---

Marthe Robin: The Cross and the Joy,
by Fr Raymond Peyret
£6.00 including postage and packing - UK only
Please email Martin Blake at: mblake@onetel.com for details of how to pay by cheque.
Click here to obtain Marthe Robin : The Cross and the Joy in the US.



MARTHE ROBIN WAS PHYSICALLY incapacitated, bed-ridden and blind for most of her iife; yet this physical suffering did not prevent her from living a life of heroic virtue, one of service to the missions, prisoners, the poor, and retreatants throughout the world.

The Cross and the Joy beautifully captures Marthe's life story, and gives us wonderful insights into the value of suffering and of a person completely dedicated to God.
Fr. Raymond Peyret, a Valence priest and editor of the Catholic weekly of Drome, Peuple Libre (A Free People), became interested in Marthe Robin while covering her extraordinary funeral. Though he lived just twenty-five miles from Marthe Robin and had heard about her from his youth, by nature he was little inclined towards private visions and was not interested in esoteric spirituality. Yet, when he investigated first hand the life of this woman he became completely won over by her and felt compelled to write this book.

---

Marthe Robin: A Chosen Soul
What sense can we make of suffering? Can love pass beyond it?
Marthe Robin was born into a peasant farming family in France in 1902, one of six children. Serious illness marked her adult life, so much so that from her twenties she was confined to bed, crippled, and gradually paralysed. By 38 she was blind. She only died in 1981. She was a 'stigmata', carrying Christ's wounds, and considered a great mystic.

Her goodness and courage in the face of intense suffering, her writings and counsels are comparable to Thérèse of Lisieux or Bernadette of Lourdes. Who is Marthe and what message has she for today? This booklet answers these questions, revealing why she, and the impressive 'Foyers of Charity' she founded - now spreading rapidly worldwide - are a source of joy in today's Church.

Marthe Robin: A Chosen Soul
A life marked by extraordinary humanism, courage and love.
Pocket-size paperback
80 pages
Author:
Pére Michel Tierney, Martin Blake and David Fanning
ISBN 1860820646
£1.95